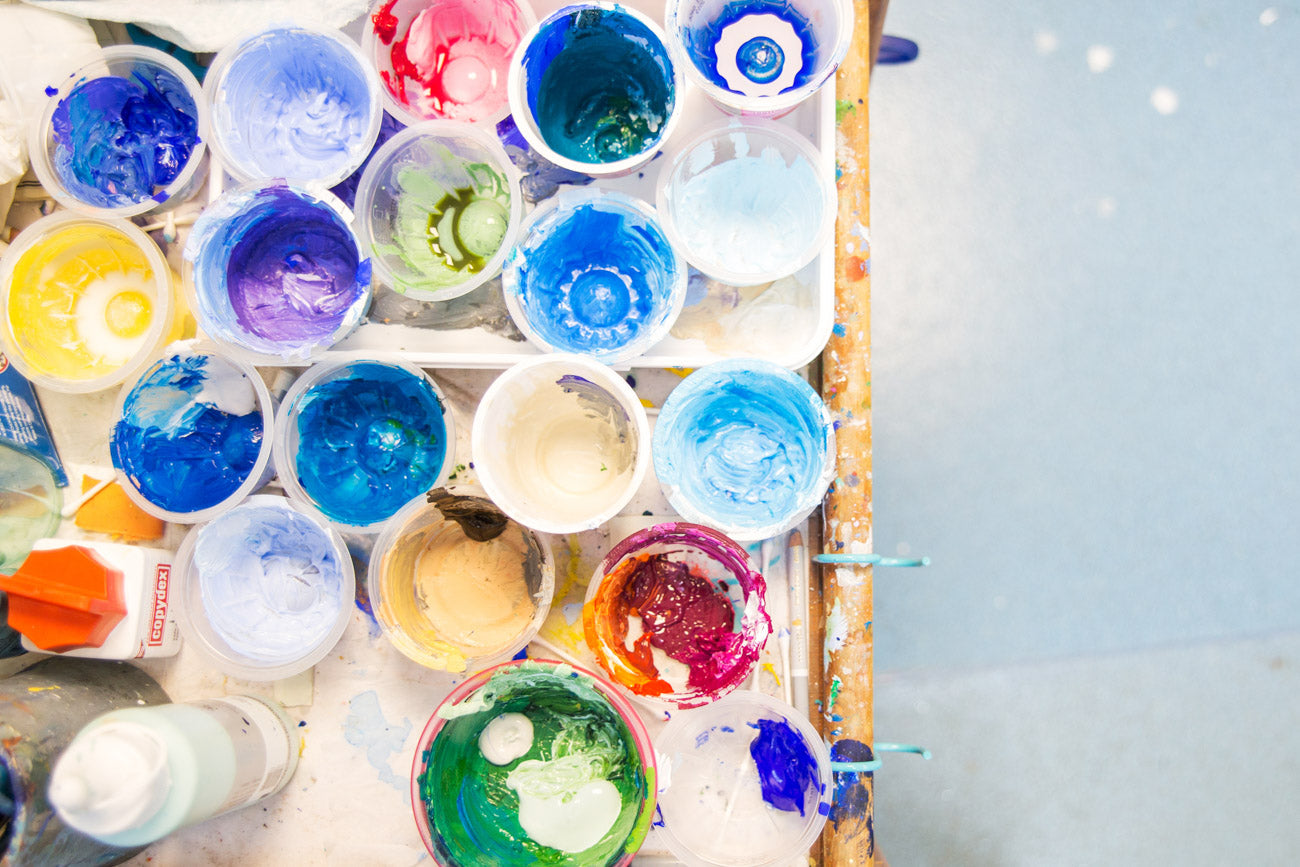 Colour Creativity and lots of it!
I am an award winning artist based at my studio gallery in Cullercoats on the North Tyneside coast. 
Born in Berwick upon Tweed I was blessed to grow up surrounded by the beautiful Northumbrian countryside. Spending childhood summers playing on Cocklawburn beach and visiting my grandparents in the village of Alnmouth.
In 2000 I gained a BDes hons in Printed Textile Design at Duncan of Jordanstone College of Art, Dundee. I started my career as a freelance designer creating surface pattern designs for gift wrap, greetings cards, furnishing fabrics and Hawaiian shirt print designs for the USA market.
 In 2006 I decided to make a change and develop my own painting and mixed media artwork. Together with my husband Ross we set up our own self publishing art, print and greetings card business and in 2009 I won a female entrepreneur award for the North East of England's, Best Creative Business. Since then we have never looked back. 
In 2019 we fulfilled my life long dream of running my own gallery. We bought a property in the seaside village of Cullercoats on the North Tyneside Coast, and the Joanne Wishart Gallery was born. I spend my days in the studio at the back of the property developing ideas and creating artwork while my husband Ross manages the gallery.  He runs a smooth ship acting as my agent, liaising with customers and distributing trade / customer orders worldwide via our online shop. 
We live happily together in the fishing port of North Shields on the River Tyne with our twin sons Fraser and Finley.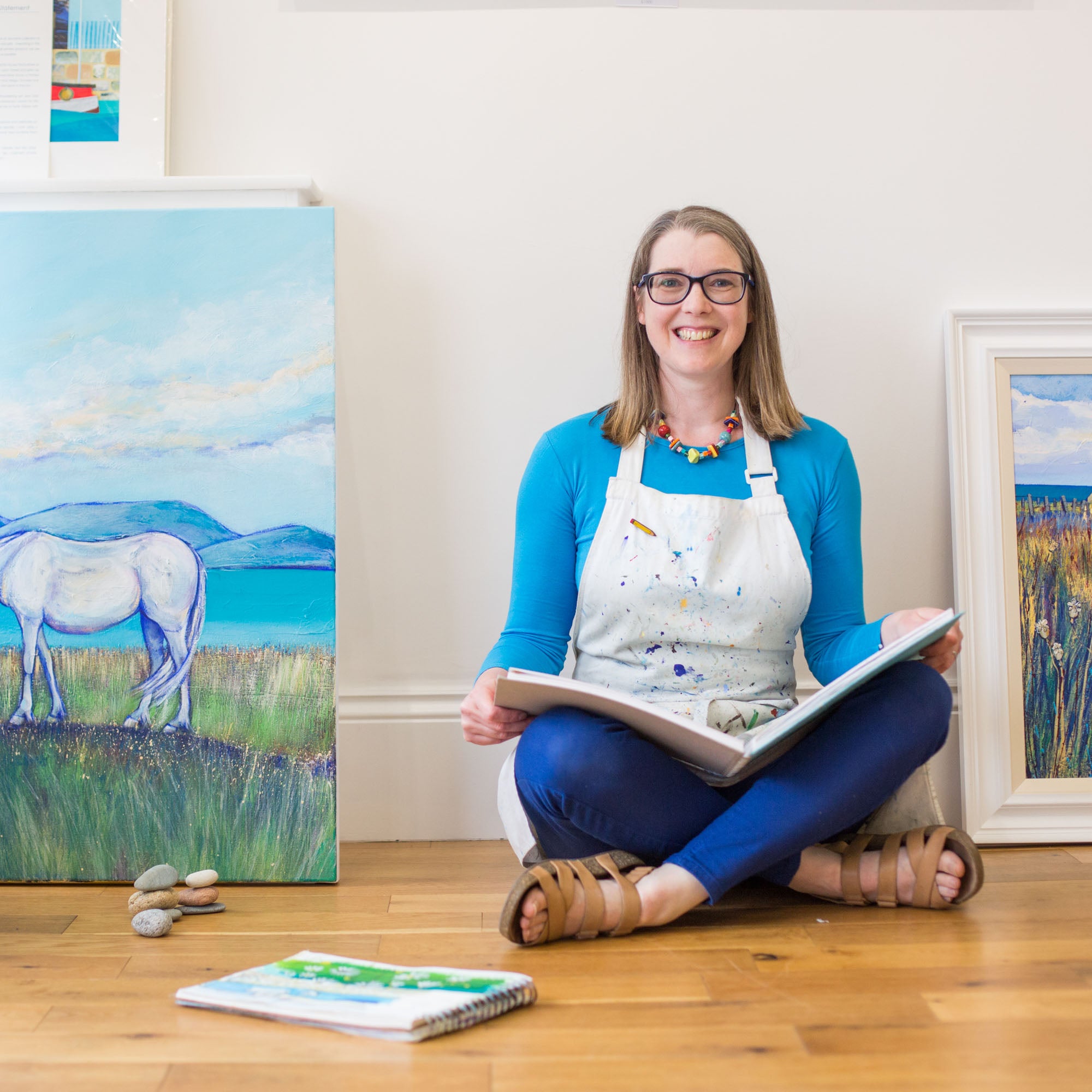 Paintings with Provenance
"I'm passionate about creating art from my own personal experiences of a place. Creating paintings with originality, authenticity and of the highest quality".
Artist Inspiration
Artist Inspiration 
The North East of England is the main inspiration for my work, with sometimes a British holiday scene thrown in for good measure. The Northumberland coastline where I grew up alongside the Tyneside coast and North Yorkshire coast feature in many of my paintings. 
Getting out and about and exploring the Northumberland landscape and coastal areas of the North East is a huge part of my process. I love to walk the coastal paths, sketch the scene and breathe in the inspiration from that day. Gathering reference material in the form of my sketch books together with photos from my journey I'm then ready to start painting in my studio.
I'm closely drawn to bright uplifting colours which I tend to accentuate throughout my work. I love to be inspired by the patterns in nature, like the fields in a landscape, people dotted on a beach, pebbles on a shore, birds flocking together on the shore or wildflowers blowing in the breeze. 
My creative goal is to capture and celebrate those happy memories from that special day out on the coast or a beautiful walk in the countryside. I aim for my paintings to transport people back to that special place and relive those feelings of joy. 
Art Studio
This is where the magic happens! Colourful and messy, my art studio is right at the back of our gallery in Cullercoats. I don't worry about splashing paint about. It works well like an efficient kitchen with my easel paints and workbench positioned around me. There are high windows that flood in natural light essential for painting. I'm a stone's throw from the beach for all of my inspiration needs. 
My artist's easel, paints and art materials are my basic essentials. I have collections of old maps, driftwood gathered from local beaches and drawers full of papers and fabric scraps. My mum's old singer sewing machine, my camera and computer. I like to display all of my new paintings around me so I can look at them daily, make tweaks and decide when they are finished.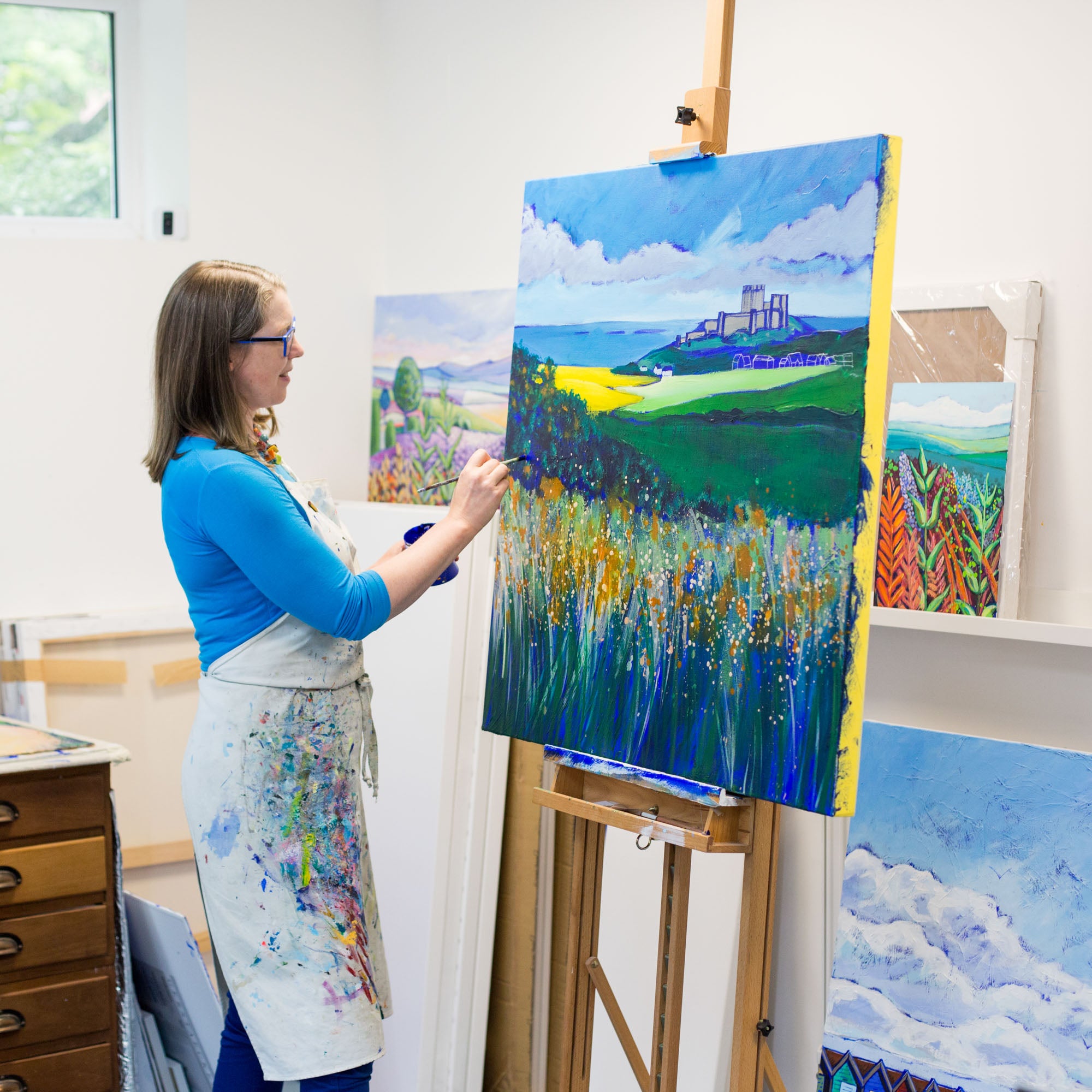 Published Work and Awards
2022- Winner | Theo Paphitis #SBS Small Business Sunday.
2022 - Shortlisted for North Tyneside Business Forums Christmas Window Display.  
2021 - T.V. Judge on the BBC Look North Weather pictures competition. 
2019 - Winner of the Public Vote - Great North Elmer's Parade for Elephish in the Wild in Art Sculpture Trail.  It was the highest selling sculpture on the trail and sold for £10,000.  
2016 - Great North Snowdogs -Selected to paint 2 Wild in Art Sculptures
2009 & 2016  - Dunoon Ceramic - Mug Designs Published 
2015 - Rowbury Publishing - Collection of Open Edition Prints Published
2009 Winner, North East England "Best Creative Business" Women into the Network, Female Entrepreneur Award. 
2009 The Art Group Cards -  Art Cards Published
2009 Calypso Cards USA -  Art Cards Published
Exhibitions
Over the last 10 years I have exhibited my work extensively in galleries mainly in the North East of England. I have also been represented at the Edinburgh Art Fair and Cheshire Art Fair.
I love showing my work at Art Festivals and have regularly exhibited at The Alnmouth Arts Festival and Staithes Festival of Arts and Heritage.
My self published work I have promoted at shows including BCTF, Scotlands Trade Fair, Spring Fair NEC.
Wow you got this far, you must be a superfan! Thanks for reading and I am so glad you enjoy my work.