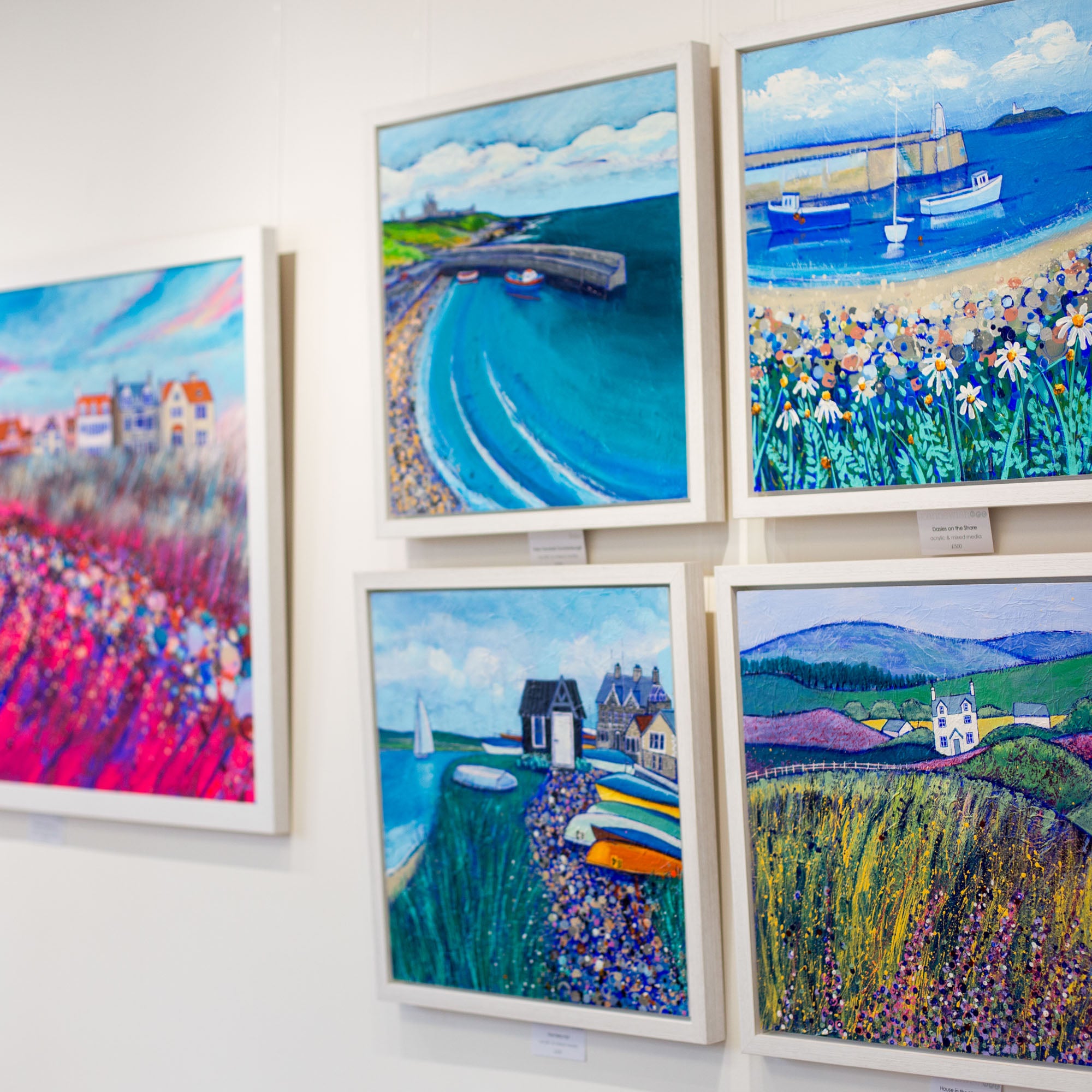 REad through our FAQs to help answer your questions.
How can I buy an original painting? 
I am in the fortunate position to have customers and collectors eager to buy my work. If you are interested in purchasing a piece you can either visit my gallery in person to see first hand what is available. Or you can visit my website to see which paintings are available to be posted out. If you would like to be the first to hear about new work please add your name to my "Collectors Club" mailing list. Once or twice a year I send out an email when I have a batch of new work being released in the gallery.
Do you paint commissions? 
Currently I'm not taking on any new commissions. I'm spending my time developing work for the gallery and exploring my own practice.  
Rights? If I buy a painting do I own the copyright? 
When you purchase an original painting you, the collector, have the right to display the artwork in your home or business but the artwork may not be resold or reproduced without my written permission.  
I (the artist) retain all rights to all artwork I create.  This includes the rights to the image of sold & commissioned original paintings. I retain the right to make reproductions of any or all artwork I create unless the customer has purchased the full or partial rights in addition to buying the original painting. 
How do I clean an original painting?
I would suggest that you lightly dust the surface of the painting with a very soft brush (like a makeup brush) to remove any dust build up. Over the years (say 10 -20) you may want to ask a professional painting restorer to clean the surface. This is only usually needed if there is a build up from nicotine smoke. 
What is the difference between a limited edition print and an open edition print?
Limited Edition prints are limited in their number for production to the size stated on my website and on the print itself. This makes the image more exclusive. Most of my prints are in editions of 150 which means only 150 copies will be printed with up to 5 artist proofs. The artist's proofs are not from the main edition of prints.
How do I know that a print is limited?
On each print written on the bottom is two numbers. The top number is the number of that particular print and the bottom number is the total number of prints in that edition. When the edition is sold out there will be no more printed. 
What does AP on a print mean?
A/P stands for artist proof. Each time I get a print produced my printer produces a print for me to check and approve. This can take a few attempts to get right.  Sometimes there may need to be a colour tweak, sharpening or amendment made but usually they are perfect as I work with a very experienced printer.
What is an open edition print?
An open edition of prints is an unlimited number of copies of the picture across multiple products including; prints, cards, tea towels, mugs and giftware etc. These prints are cheaper than the limited edition ones because of their lack of exclusivity.
Can you print this image in a bigger size?
If the print is a limited edition print it is only available on the size stated on my website. If it is an open edition image it will depend on the size of the original artwork as scaling up the file can lead to blurred artwork and a poor quality image. 
Can you post out a framed print?
Currently no,  we don't offer this service. The damage risk of the glass breaking is too great. Using perspex is the alternative but we have found that it scratches more easily.
Are your limited edition prints available as a card or a coaster?
Sadly no, as the title suggests the prints are limited which means that they are only available as a print on that run, at that size. This is reflected in the price being higher than an open edition print or other product as the customer is receiving something which is of a limited quantity and more collectable.
Can I hang my print in a conservatory in direct sunlight? 
While my prints are made using the best quality fine art U.V. inks available. I would suggest you do not hang it in direct sunlight (say a conservatory with a glass ceiling).  Hanging anything in direct sunlight will endanger the colour quality and longevity over the years. A normal bright living room should be O.K.  
Can I hang my print in the bathroom/ kitchen? 
I would suggest if the room is very damp and streamy the paper may buckle and ripple.
Can the coasters be ordered as tiles for a kitchen or bathroom wall or splash back?
The answer to this would unfortunately be no. They are not manufactured for this purpose and may scratch more easily than your usual bathroom tiles. However customers have done this in the past at their own risk and haven't fed back with any major issues.
Press. Do you give interviews for publications? Yes please get in touch if you are interested in writing a story about my art. 
Do you do talks or workshops?
Sadly no, not very often. I'm actually quite shy. I prefer to spend my time painting.
 I'm a student. Can you answer some questions for me?
Please read my website first and search my blog articles to see if any of my text is applicable to answer your questions before approaching me. Click here and  here for more information.  I am very busy, but will help if I can. If you need to know more please ask only via email info@joannewishart.co.uk 
Do you take students on work experience?
Yes, we can take students for a week placement to work in the gallery. Please apply via email with your name, school and dates.
Can you donate a painting or prize to my charity raffle? 
Sadly we cannot support every charity that asks. Our chosen charities are Cullercoats R.N.L.I. who are pinnacle in our local community and dedicated to saving lives at sea and Tiny Lives who supported us when our premature twins were born 14 weeks early. We can sometimes donate to local charitable events.
Please check out our Delivery & Returns page here.