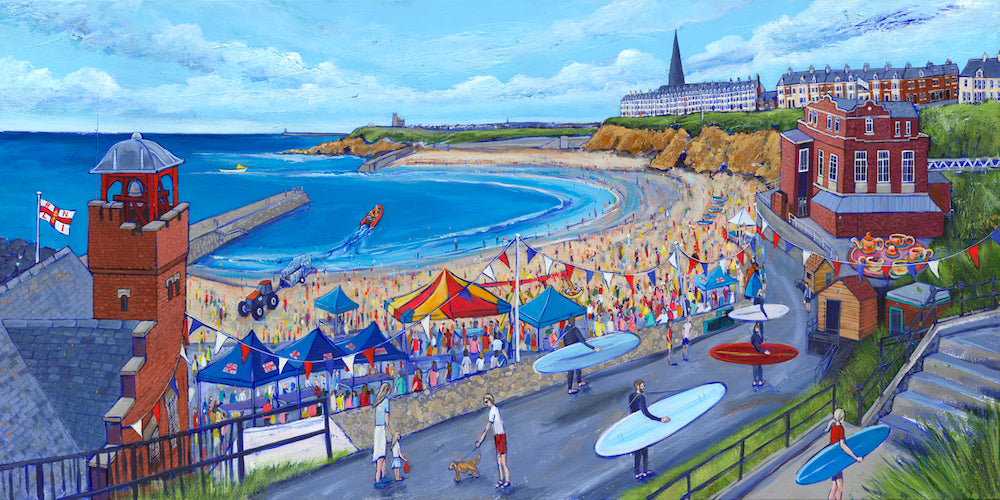 Cullercoats Harbour Day - Art Print
Cullercoats Harbour Day is the wonderful day in the year when Cullercoats Bay really comes to life. Raising important funds for Culleroats RNLI lifeboat station, Harbour Day sees the local community come together for a day of fundraising.
Step into the busy summer scene with this limited edition print by local artist Joanne Wishart. This remarkable artwork captures the lively atmosphere of a beach bustling with people and the heroic sight of the Cullercoats RNLI lifeboat launching into the sea.
Crafted with the utmost care, it faithfully reproduces every intricate detail and vibrant colour of the original painting. Printed on matt archival-grade paper using the latest Epson inks and printing technology, this print ensures exceptional quality and longevity, allowing you to enjoy the artwork's beauty for years to come.

The print is available flat, mounted and cellophane wrapped ready to be framed, enabling you to customise its presentation to match your personal style.
For postal orders the prints will be delivered unmounted and rolled safely in a tube. 
Image size 72.5cm x 37.5cm
Mount size 80cm x 45cm 
Edition of 150 prints
A framed 'Cullercoats Harbour Day' print was donated to Cullercoats RNLI for their 2023 harbour day where they held a special raffle raising much needed funds for the charity. 10% of the profits made from the sale of each of this print is donated to the RNLI every harbour day.