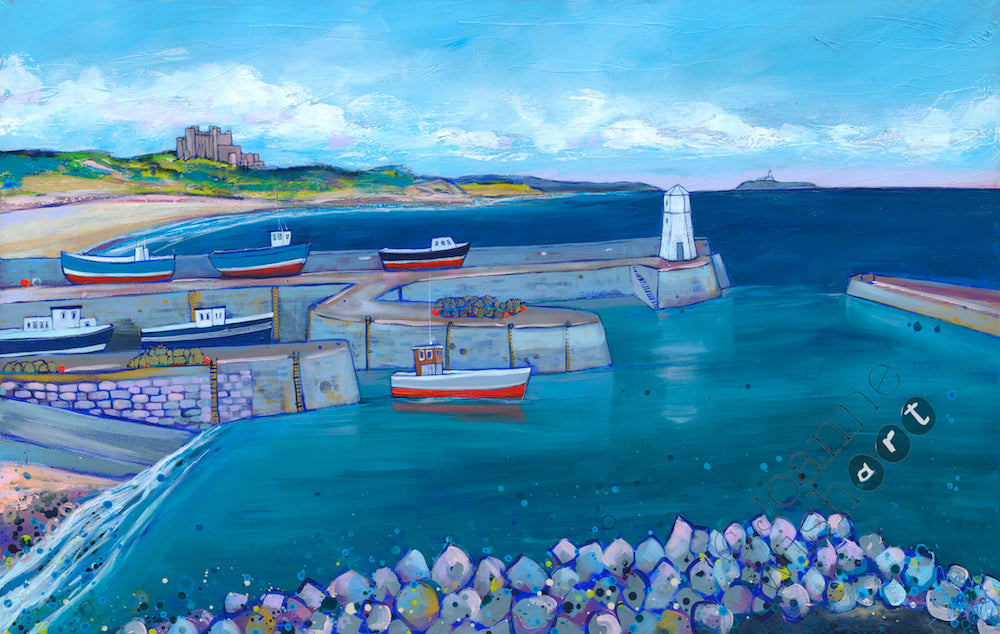 what do my customers have to say?
The end of a paintings journey belongs to you my customers. I am delighted to see where you hang them in your lovely homes and why they mean something special to you. You are part of my paintings story and I have shared some of your lovely comments here on this testimonials page.  
2019 - Geoff Love Newcastle
"My wife spotted this painting when she and I came for a browse around Joanne's gallery during an open evening. Good timing meant her birthday was quite close so I had a sneaky word on the way out and got it put aside!  Joanne was great about keeping the painting for a little while and delivered it in person on my wife's birthday which was a lovely touch.  We love looking at the painting when sat at our table and guests always sit on that side of the table for the view! They always comment on how lovely it is.  Thanks, Joanne!"
2020 Edward & Liz Billcliff Bamburgh - Waterford Holiday Let
"We were regular visitors to The Arts Bank in Saltburn and that's where we first came across your work. We bought a print of 'All our Sons' in 2011 and also particularly liked a print of Staithes there too but thought it would be lovely to have the original, so we got in contact to ask if that was still available for sale. Initially we were disappointed to hear that it had been sold, but you suggested you could paint another one and tailor the composition to what we would like, which was an even better option. We visited the studio several times as the work was in progress, being closely involved and discussing options was a real treat and we're delighted with the completed commission.
We are great lovers of Northumberland and are very fortunate to have a second home in Bamburgh. One of our favourite spots is Low Newton by the Sea, and when we saw a painting in the studio at an Open Day, we couldn't resist, it now hangs in our hall. Bamburgh itself is an artist's paradise and has been captured from just about every angle, Joanne has several with great views of the village and castle. As we'd enjoyed our commission so much we thought it might be nice to have another picture looking up to the Castle from the south across the Dunes that could then incorporate our house. We discussed this with Joanne, she felt that could make a nice composition and she'd depict the Dunes with poppies & lupins in full bloom. I took some photos of the view we had in mind, Joanne made some sketches and we took it from there. So our second commission is very personal to us and the resulting picture is a joy. It hangs above our bed as a daily reminder of a very special place, and one that we've missed greatly during lockdown. In fact we have 3 versions of it, a second full size print is also in Waterford (our Bamburgh House), and a smaller one in our snug!
We've been to several Open Days, visited the annual Art Festivals in Staithes and the Gallery over the years, always a pleasure, but it does get expensive as there's usually something that we want to buy! I guess we should class ourselves as fans of Joanne's work (if that's the right expression for art?), her pictures and style present a bright cheerfulness of our Regional Coast that evoke the joy we all have when we visit the seaside."
2018 - Jan Taylor Alnmouth
"When we moved up to Alnmouth, 3 years ago, one of the first items we bought was one of Joanne's beautiful prints. We now have 3 and they bring pleasure every day."
Dave and Julie - South Shields
Little Haven
"We love Joanne's work and commissioned a picture of the two of us and our dog Tasha taking our daily walk along Littlehaven Beach near our home. It gives us pleasure every single day. 2017 Love Dave and Julie"  North East Coastal Arts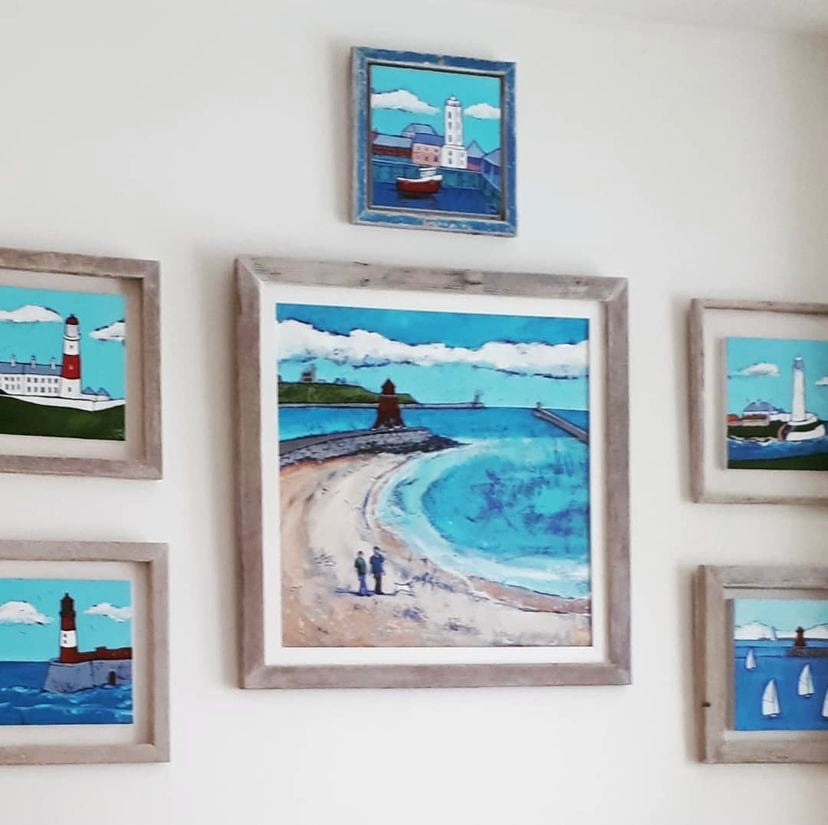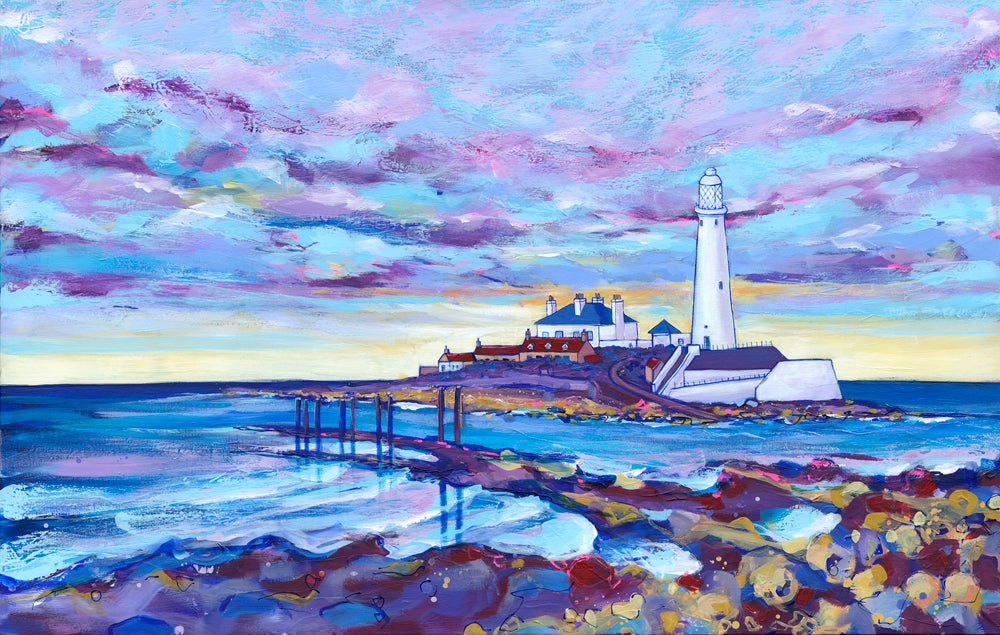 Carly Hadman - Cullercoats | 2021
I just wanted to say how much I love my new painting (St Mary's Evening). The colours are beautifully vibrant and uplifting. Every time I look at it, I spot details I hadn't noticed before, it's beautiful!  The delivery was super quick and convenient and we can't wait to see what new paintings you bring out in future. On a personal note, I find our painting very comforting. We moved to Whitley Bay, from Cambridgeshire, in 2019 for a fresh start. My daughter Effie, aged 6, had died and we wanted somewhere to start a new life as a family of 3. My son loves the beach and rockpools, and the pink splashes playfully dancing around the rockpools reminds me that Effie will always be with us (a little bit about her journey is here:https://www.facebook.com/watch/?v=2890538467851669
Joanne Down -Cullercoats | 2021
"Just a note to say how thrilled I am with the last 2 purchases. I love the silver you put on the Tynemouth painting. The sun is just catching it now and it changes the whole painting ... way to go! I hope you have a really good reaction to your new work.
Linda & Willie | Alnmouth | 2022
Hi Joanne
Thanks so much for delivering our lovely painting - after much deliberation and movement of all the artwork upstairs we decided it's pride of place should be on the end wall of the hall - not where I had in my mind but it's perfect - you reach the top of the stair and then as you walk along the hall and meet the painting it's like you can keep going through the path in the dunes - it's wonderful and adds a lovely cheerfulness to the hall.
The picture doesn't do it justice.
Thanks again,
Linda and Willie